ROLEX OYSTERQUARTZ: THE BEST QUARTZ EVER MADE!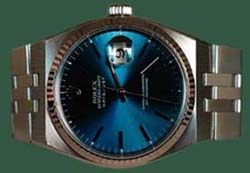 The Rolex Oysterquartz watch is the only quartz that has a mechanical movement... Mid 1977´s the OQ was launched, with two big NEW things: the production quartz movement AND the sapphire crystal (even the Perpetual Daydates had to wait several years before these would have the sapphire). Exactly 5 years before 1977 Rolex had been developing a quartz movement for 10 years, resulting in the famous and beautiful Rolex Quartz 5100, in 18K yellow gold equipped with the BETA 21 movement. From this 5100 supposedly only 999 are produced (900 in yellow gold and 99 in white gold), if you can find one nice price get it! Strangly enough, the 5100 was already equiped with sapphire glass, so Rolex waited another 7 years before putting saphire on the production watches! Rolex produced 5 different models in the period between 1977 and 2002, three Datejusts and two Day-dates. These were two steel versions (the 17000 and the 17014 with white gold bezel), a steel/gold version (the 17013) and two Day-dates: a white gold version (19019) and a yellow gold one (19018). The DJ´s came with several different dials, the choice of the Day-Date dials were much more complicated.
The exact numbers are not quite clear, but the experts think that in the 25 years of Oysterquartz production only 25,000 Oysterquartzes have been made, approximately 1000 per year. Because in the late 70's and 1980's people had to think about Seiko and Citizen watches when talking about QUARTZ watches, the Oysterquartz has not been treated with the respect this watch earns. This watch is not only rare or looks very cool and wears very nice, it also BEATS every second, and it beats so loud that you can hear it all day. Rolex is committed to have spare parts for *any* production serie, and because this movement has practically been unchanged until the end (2001) there will be spare parts available until 2026 at least. We hope that sites like this creates more awareness around the Oysterquartz brand and models and that people will start to collect them, and more important: start to wear them. Personally I have only seen one OQ in "the wild" at the Formula 1 weekend in Montreal last year, and that guy seemed very happy...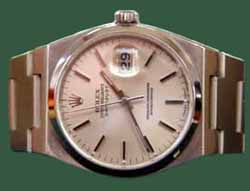 Next to the OQ there is not one single Rolex model who has an unchanged movement (why change a winning team ;-), the 3035 in the Datejusts and the 3055 in the Day-dates. The Oysterquartz-band is a seperate story, because this is integrated and VERY sturdy also. Because the watch is almost square it is very recognizable (and also copied by famous brands like Audemars Piquet for example. The OQ is pretty rare here in Holland and almost never is offered with box and papers. If you find one, grab it! There are three expert sites available regarding the OQ: www.oysterquartz.de and www.oysterquartz.net and www.oysterquartz-info.de). Ask these people any questions you like, they know all about the OQ. We will also supply information about this watch, and regularly offer some OQ's from our own collection for sale. We suspect the Rolex quartz to be the new Milgauss or Explorer 1655 in a few years (these were also not wanted at the time they were in the shops), don't say that we did not tell you in 2010!